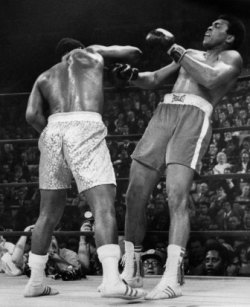 Posted by Josh Katzowitz
In perhaps his most famous fight -- perhaps the most famous fight in all of last century -- the greatest heavyweight of them all (or so he claimed) lost the bout. At the time, Muhammad Ali must have seemed invincible, building a 29-0 record before sitting out the next 3 ½ years in a political exile only to return to knock out two legit heavyweights.
Joe Frazier always seemed to hate Ali. He was never as popular with the fans, he wasn't nearly as charismatic, and Ali continuously taunted Frazier. In the first fight of their amazing trilogy, Frazier made him pay, knocking him down in the 15th round and beating the then-undefeated Ali in a unanimous decision.
The two would fight twice more, including the final match of the trilogy, known as the Thrilla in Manila, and Ali won both of them. But at least Frazier, who has held a grunge for most of his life since then, had the first fight at Madison Square Garden on March 8, 1971. At least he could hold that fight in his memory forever.
And now you can hold part of that fight, quite literally, in your hand if you're willing to part with quite a bit of money. That's because the trunks Ali wore that night are being auctioned off by
SCP Auctions
, and if Frazier's robe from that bout is any indication -- it sold for
$19,200 in April 2008
-- it might be an expensive proposition.
But if you're a big fight fan or a lover of Ali (and you have boatloads of money to drop on sports memorabilia), it might be a good idea to take a look at the Ali trunks.
As SCP Auctions writes: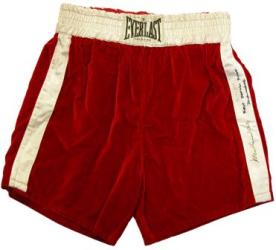 "SCP Auctions is proud to present the actual trunks worn by Muhammad Ali in this most historic of his fights. Deep maroon/red crushed velvet, trimmed in pure white satin, these trunks were originally purchased from the estate of Drew Bundini Brown. Brown was a long-time assistant of Ali's and was present for this historic fight. The trunks are photomatched and have been signed by Ali -- three times on one of the side trim stripes. One of the signatures was inscribed by Ali, "First Frazier Fight, Muhammad Ali". Universally regarded as The Holy Grail of Boxing Memorabilia, these trunks will be offered as part of our Fall, 2011 Premier Auction."
The fight was so big that Frank Sinatra photographed it for
Life
magazine and 300 million people around the world watched on satellite TV.
And this is how the
New York Post
described the scene 40 years later:
"I underestimated Frazier," Ali would later say. "I clowned too much. I didn't train like I should. . . . My mind told me what to do, but my body couldn't do it."

Amazingly, Ali spent rounds 12, 13 and 14 dancing, throwing pistons, scoring heavily, closing Frazier's eyes. Then, 30 seconds into Round 15, arrived the hour of truth: a boomeranging left to the jaw by Frazier -- the 30th he had landed -- that felled Ali and wrote, to Hunter S. Thompson's eye, "a proper end to the '60s."

Ali was up in an instant, but he knew he'd lost The Fight of the Century, a verdict the judges unanimously affirmed. A new reality! Truth upended! The uglier, less interesting man had triumphed -- and therein proved himself as beautiful and profound as Ali, mere mortal. For the moment, however, one devastating left, thrown 40 years ago, encapsulated everything and changed the world.

"That," Frazier would later say, "was probably just an act of God."
An act that was never repeated. But an act of which you can be part-owner.
*Trunks photo courtesy of SCP Auctions.For more NFL news, rumors and analysis, follow

@EyeOnNFL

on Twitter and subscribe to our
RSS Feed
.