By Matt Moore
This pretty much says it all.
Ron Artest
and Hope Solo
will appear on ABC's "Dancing with the Stars" contest
.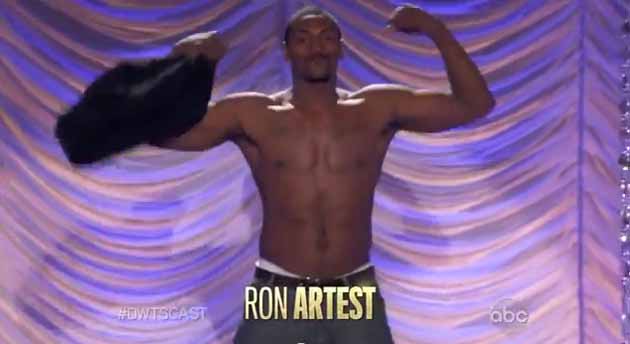 That's Ron, in case you were having a hard time figuring out which is which.
Artest is
due to join the Cheshire Jets
in the United Kingdom this fall (
if he can sort out his insurance issue
) to play during the NBA lockout, but apparently he's got some extra time to take to the dancefloor. Now we'll get to see if he can (dancing cliche) as well as he can (basketball cliche). One thing's for certain, he'll have to (dancing/basketball pun). Right? Right?
Artest had said Monday on Twitter that he didn't have time for DWTS due to all his other commitments, but that, obviously, was a swerve job. Interesting question. He was introduced as Ron Artest, but if he makes it long enough, they'll have to rewrite all their graphics to reflect his
new name on September 16th, Metta World Peace
. It's too bad he and Solo won't be teamed together. Metta World Peace dancing the waltz with Hope Solo rings of a certain optimism we could use in this world.
Speaking of Solo, it's a big cash-in on her popularity earned in the U.S. Women's World Cup run. We like her chances more than Ron's, but then again, that's mostly because she's nimble and we like her ability to respond to criticism better. Seriously, if you're one of those judges, how do you tell Ron his footwork is sloppy? That's got to make you nervous, despite his new sunny disposition.
(
Image courtesy of YouTube
)